WEINZIERL 5321 KNX IO Extension Blinds
€

37,43

Excl. tax

€49,40 Excl. tax


€45,29 Incl. tax

€59,77 Incl. tax.
Out of stock, but available

Unit price: €37,43 / Piece
Diese Komponente gehört zum KNX-Modul Multi I/O 48 Kanäle Artikel 5267 und funktioniert nicht eigenständig!
Read more
Specifications
Availability:
Out of stock, but available
Information
The Multi IO Extension 592 for shutter has been specially developed for the control of blinds and shutters. The double relay is connected to only one output of a KNX Multi IO 570 or KNX IP Multi IO 580. The direction control of the relay outputs is performed automatically by the KNX Multi IO by a defined voltage interruption of the holding current.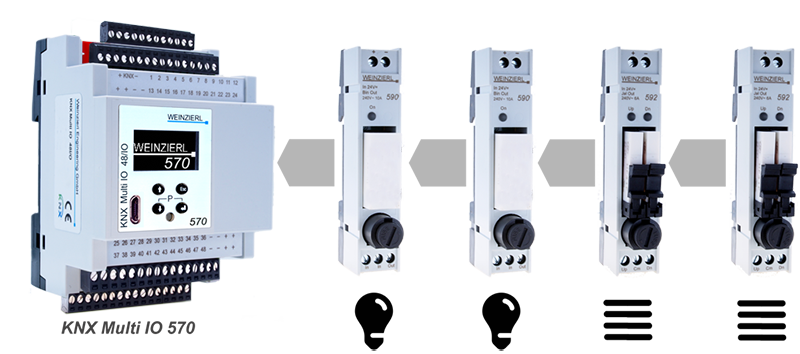 The outputs are electro-mechanically locked against each other to prevent a motor defect. The Multi IO Extension 592 has an integrated fuse to protect high-quality equipment.
Spare relays
Standard relays for Multi IO Extension 592
Art.-Nr. 5346
EAN: 42 6026277 346 3
Contact material: AgSnO2
Input 24 V
Output 230 V / 1A
Delivery unit: 10 pcs.
Art.-Nr. 5322
EAN 42 6026277 322 7
TECHNICAL DATA
Mechanical data
Housing: plastic
DIN rail mounted device, width: 1 modules (18 mm)
Weigth: approx 50 g
Indicator and fuse
LED (green) show direction
Glass fuse 5x20mm, 6 A
Connectors
Screw terminal (2 poles) for 24 V⎓ input
Screw terminal (3 poles) for 230 V∿ output
Input
Input voltage (signal) 24 V⎓
Output
Fuse 6 A
Relay type: 250 V∿ / 6 A, bi-stable
Depending on load type (capacitive or inductive) the switching power can be reduced significantly.
© Copyright 2023 KNXwarehouse.com | All rights reserved | Alle rechten voorbehouden